Welcome to Clwb Criced Llandysul Cricket Club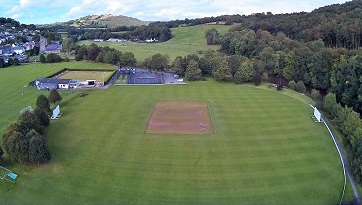 Welcome to the on line home of Clwb Criced Llandysul Cricket Club.
Llandysul CC thanks the England and Wales Cricket Trust for their generous donation which enabled the club to purchase a fine set of mobile covers.
2017
The fixtures for 2017 have been published by SWCA and can be viewed either on the swca.play-cricket.com website or in Club News by ticking 'Show News from this site only' and clicking on 'Search'.
Darrel Griffiths
At our recent AGM long standing club captain Darrel Griffiths announced that he was standing down. Darrel has been club captain for seven years. When he was appointed, the first XI had just been promoted from the SWCA Division Five. He lead the team from Division Four and Division Three in consecutive seasons and after a further two seasons in Division Two to Division One where the club remains to this day. 2017 saw Llandysul achieve the club's best ever finish.
In short the cub owes Darrel a tremendous debt of gratitude and he can look back on his term as captain as a time of unparalleled success. He brought a much more professional attitude to the club both in terms of preparation and performance on the field and we will be making every effort to ensure his legacy is carried forward. At this point in time it isn't clear whether Darrel is continuing as a player, but we wish him all the very best in whatever direction he decides to take his cricket career from now on.
At the same time first team manager, Aled Jones, also announced that he would benefit from a break. Aled has done the job for as long as anyone can remember and despite the fact that he would never seek thanks the club owes him an equal debt of gratitude. Mike Turner is taking over the job, but he has big shoes to fill, both literally and metaphorically!
Trevor Jones
Trevor's passing was announced last week after he had spent several spells in hospital recently. Known throughout the whole of South Wales cricket, Trevor was an indefatigable umpire and administrator. Indeed he carried out his SWCA duties almost to the end. Llandysul CC, in common with many others, regarded him as a friend of the club. He will be sorely missed.
Trevor's funeral is at Morriston Crematorium on Monday 13th February at 11.30 and, I believe, afterwards at Gowerton RFC.
Clwb Criced Llandysul Cricket Club