Welcome to Clwb Criced Llandysul Cricket Club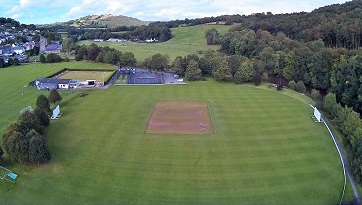 Welcome to the on line home of Clwb Criced Llandysul Cricket Club
2017: The Story So Far
It only needs a glance at the Division One table to see that the club's first XI has not got off to the most auspicious of starts. We currently languish in bottom place, yet that position does not tell the whole story. In most of the games to date the side has worked hard to get into a good position only for the self destruct button to glow bright red or a feat of individual brilliance on the part of the opposition to snatch victory away. The opening game of the season became a sign of things to come. Llandysul's attack had reduced Briton Ferry Steel to 74-9 only for an unheralded debutant to come in at number eleven and score an unconventional 50 in a last wicket stand of 80 which left a poor Llandysul batting effort hanging on for a draw. This was followed by a battling draw at Dafen with a much weakened side.
Then followed two consecutive games where very good positions at 160-3 disintegrated to totals of not much more than 180. These might have been defended but for outstanding innings from Michael Weathersby of Aberdare and Ashley Pass of Gorseinon. We were soundly beaten by a very good Bronwydd side which looks likely to challenge for the title, but a potentially match winning Llandysul total of 218 featuring a Gary Williams century at Gowerton was made to look completely inadequate by an innings of 160 not out from Matthew Mason. The dazzling brilliance of this innings was emphasised by the fact that no other Gowerton batsman ever looked very comfortable at the crease.
A season so far, then, of missed opportunities and a few pieces of luck which might, on another day, have resulted in a win. We look forward to the remainder of the season in the knowledge that we are not a bad side and the hope that one win will bring more and better fortune in the coming weeks.
Our second team are reasonably well placed in Division Six, but the season as yet has hardly got off the ground for our young side as two of our wins have been by default.
The youth sides are faring well with Dafydd Hatley's under 14's recording some useful results which include a closely fought Welsh Cup win in Aberystwyth. This is all the more encouraging as several members of this side are a year or even two younger than they should be.
Clwb Criced Llandysul Cricket Club